Most years I try and get down to the Pool and Spa show in Atlantic City to review the new pool cleaners from the major manufacturers. This is a dealer show and is not really focused on pool owners and I am only interested in the robotic pool cleaners, as opposed to all the products for the pool and spa market. This year it looks like there are few new offerings from the major manufacturers.
Hayward
Keeps their current lines of AquaVac 500, TigerShark, and SharkVac but I did hear that new products focused on easier servicing were in the future.
Pentair
Maintains the Prowler line of cleaners subcontracted by Maytronics this year with updated color schemes. It should be noted that these cleaners did not get the updated swivel Maytronics has introduced in its line.
Polaris
Polaris leads with its Wi-Fi enabled 9650 iQ Sport robotic pool cleaner, which is a no brainer providing you have their matching iAquaLinkTM Control. This year a cable swivel is included on their top models. A downside to this cleaner is that it only has one brush.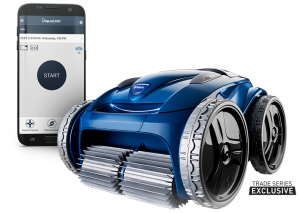 Maytronics
Maytonics did not have a booth again this year. I did hear that part of their 2018 S line has the much requested cable swivel which would be a significant upgrade.
NEW PRODUCTS
Saltech
A new company was at the show offering robotic pool cleaners this year. Saltech with their 8Streme line of Robotic Pool Cleaners. The demo cleaner in their booth warrants a closer look. They import the cleaners from overseas and offer Robotic pool cleaners at a fraction of the cost of the competition. More on this company when I have more hands on experience. Pictured below is there Black Pearl.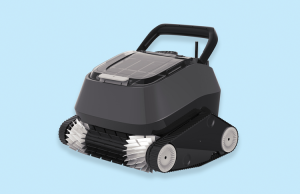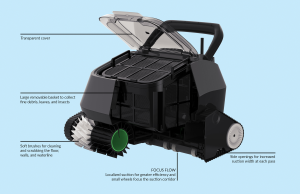 copyright © 2018 GBPS, LLC